Electrolysis
Permanent Hair Removal
Of all of the possible methods of hair removal, I believe that electrolysis is the best - by far.
Why?
Because it is the only hair removal method that is clinically proven to be effective for permanent hair removal. This method also has a very long history - over 125 years in fact. So we know that we can very reliably say that it's safe.
No stubble. No razor burn. No worry about getting sun after your treatment, like laser hair removal. And none of the other risks you get from other types of hair removal either.
How does electrolysis work?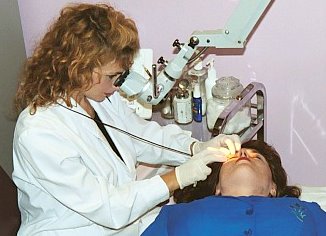 Basically what happens is that we insert a very thin metal probe right into the space beside the hair shaft to get to the root of each individual hair follicle. Then, a very small burst of energy is directed at the hair follicle root in order to destroy it. Once the hair root is destroyed, or sufficiently damaged, it becomes incapable of producing a new hair.
Voila! That hair is gone for good.
Having a well trained professional electrologist and using good equipment means that you can get the fastest and best results with minimal discomfort. There are different types of hair removal systems, which I'll explain elsewhere on this site. Ask your electrologist whether their system can be adjusted not only for each person's type of hair, but also for different sensitivity spots on your body. It can greatly improve your comfort level.
Electrolysis is safe to do on any part of your body - facial hair removal, back hair removal, leg hair removal and even pubic hair removal.
We've used it to help thousands of clients, not only for popular areas like upper lip and other facial hair like eyebrows, but also legs, arms, and yes, even genital hair removal. Men most commonly use it to remove back hair or to remove chest hair. Increasingly though, we see an interest in male pubic hair removal.
I recommend this over other methods such as laser or waxing. I especially recommend it for anyone trying to achieve that brazilian wax look. I'll talk more about this elsewhere, but really, I mean why keep going through the pain of waxing over and over and over again, when you can achieve better results with permanent hair removal by electrolysis?
If you really want to get rid of body hair for good, I can't think of a better hair removal system.
If you're in the Toronto area, and would like a personal consultation, just contact us. We'll be happy to show you just how easy it is to get real permanent hair removal.
Return to top of Electrolysis page
---
---
Want more personal advice on the best body hair removal for you?
Visit my hairEnder electrolysis Toronto clinic for permanent hair removal